HP 6600 Switch Series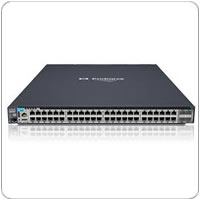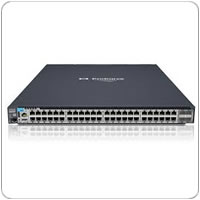 Product overview
The HP 6600 Switch Series consists of advanced data center server edge switches.
The 6600 Switch Series includes 10/100/1000BASE-T and 10GbE SFP+ 1U
rackmount switches enhanced for server edge connectivity with front-to-back
(reversible) airflow, redundant hot-swappable power, and redundant hot-swappable
fans. The foundation for the switch series is a purpose-built, programmable
ProVision ASIC that allows the most demanding networking features, such as quality of service (QoS) and security, to be implemented in a scalable yet granular fashion.
With a variety of connectivity interfaces and expanded buffering, the HP 6600 Switch Series offers excellent investment protection, flexibility, and scalability, as well as ease of deployment and reduced operational expense.
 Enhanced for data center server access layer  Front-to-back, reversible airflow  Redundant, hot-swappable power supplies and fans
 64K MAC address scalability
 Consistent ProVision ASIC-based switch fabric